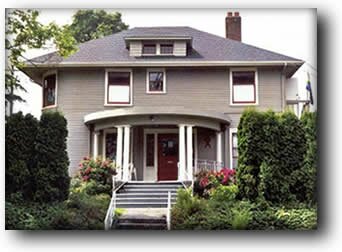 Dunshee House is located at:
Our house is situated on the northwest corner of the intersection of 17th Avenue East and East Thomas Street, in the Capitol Hill neighborhood of Seattle. Our large, light-gray house is painted with red and white trim and surrounded by a yard full of beautiful plants and flowers. You can't miss it!
Nearby Metro bus routes include: 8, 10, 12, and 43. Click here for King County Metro web site.
Please drop by Dunshee House any weekday between the hours of 3:00 p.m and 9:00 p.m.
Occasionally, our house is open on the weekends, for special events. For more information on specially scheduled weekend activities, please see this website's complete list of groups and events or call Dunshee House directly.

Phone:
Fax:
---
[Home] [About] [Staff & Board] [Volunteer] [Services] [Find a Group] [Donate] [Newsletter] [Links] [Contact]